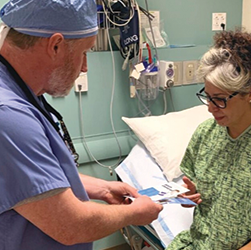 Capitola Surgery Center believes that every patient in our care should be treated with dignity and compassion. We respect and consider your rights as a patient and recognize that each patient is an individual with unique health care needs. We are committed to honoring these rights and encourage patients and families to play an active role in their care.
As a patient, you can expect:
Considerate and respectful care.
Privacy and confidentiality.
Attention to your needs and concerns.
An explanation of your bill.
As a patient, you have the responsibility to:
Provide complete and accurate information about your health.
Follow the treatment plan as prescribed by your provider.
Be respectful of all the healthcare professionals and staff.
---
Prior to your surgery, please download and complete the patient rights and responsibility forms you need.
Remember to bring the forms to your appointment.
Advanced Healthcare Directive (English)

Directiva por Anticipado de la Atencion de la Salud (Spanish)

sfdghsfghsfghfsgh

Preparing for Surgery Brochure (English)

Preparativos para la Cirugra Brochure (Spanish)




Nondiscrimination Policy